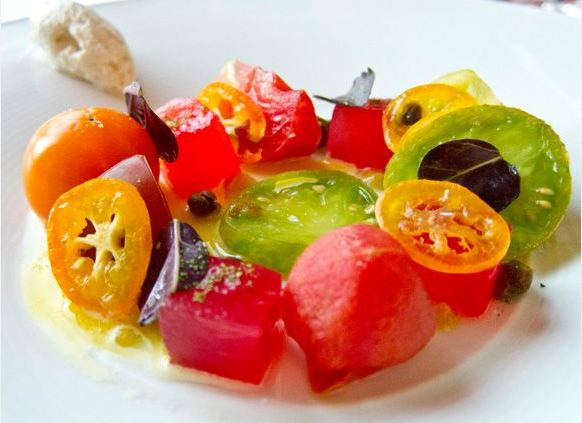 2013 brought a restaurant boom to Toronto, and it shows no signs of slowing down this year. Instead, foodies everywhere are celebrating the wide variety of new cuisine springing up all over the country like Filipino, Persian, Malaysian, and Haitian. And with the competition between restaurants heating up, so is the battle for the top locations and chefs. With high quality, original food available all over Toronto at a wide range of prices, dining here never gets boring. The number of choices can be overwhelming, but these top ten spots for fine dining in Toronto are sure to please. Of course, don't stop there: try them all and decide your favorites yourself.
1. Big Crow
Start your Toronto food journey with food inspired by Canadian comfort foods and cookouts. The Crow features backyard BBQ classics like sublimely smoked ribs but also mixes it up with items like grilled lobsters and hot honey butter sauced rabbits. Stay for dessert and have your childhood favorite dessert—s'mores—served to you with some flair. Making reservations for dinner is no problem; you can call in or make them online. Of course, for those who are more spontaneous, you can drop in too, and they'll text you when a table becomes available.
2. The Chase and the Chase Fish and Oyster
Want some fresh air with your food? Then you need to head to the financial district. The financial district may not be known for its culinary offerings, but the Chase and the Chase Fish and Oyster are beginning to change that reputation. Located at the top floor of the heritage building on Temperance Street, the Chase allows you to dine on creamy, house-pulled mozzarella and whole roasted chicken while enjoying 270 degree of city views. Restaurant owners Michel Kimel and Steven Salm didn't settle for anything when they were opening the Chase, securing top city chef Michael Steh to create meals that balance high style French cooking with luxurious ingredients and non-threatening flavors. A more causal and less expensive option, the Chase Fish and Oyster resides downstairs and offers a twist on the classic crab shack.
3. Porzia
Italian food is always a classic, but Porzia serves up these classic dishes with style. Chef Basillo Pesco varies the menu frequently, so you'll never get bored, but you can be sure to find dishes like trippa fritta, roasted bone marrow, and chicken liver agnolotti. The atmosphere has been shaped into a sweet, big neighborhood feel that continues to serve up Italian soul cooking in the most original ways. With both tables and bar seating, you can choose your style of meal and make your reservations online to secure your spot.
4. Electric Mud BBQ
Grand Electric has expanded to bring their creativity and excellence into a new arena. This restaurant channels the feel of a classic southern keg party, so expect a happy-go-lucky atmosphere and large amounts of energy. What you can also expect? Mouth-watering, habit-forming, delicious food. You'll start out with hot dinner rolls smeared with smoky porky butter, and then you'll have to decide between pork ribs with a South Asian kick and buffalo wings made from cauliflower nubs, among a variety ofother choices. This restaurant isn't about doing barbeque as it's always been done: it's about doing it in a way that's the tastiest.
5. Playa Cabena Hacienda
Chef Dave SIdhu has a new location in Dunport where he converted the two story Victorian into his new Playa Cabena Hacienda that features a snack menu of tacos, tostadas, and sweets. For around $6 you can enjoy a taco like the chorizo pulpo that comes loaded with octopus and Mexican chorizo filling doused in spicy poblamo salsa. You can also order lobster and short rib: both will be prepared with flair of sauces that will make it different from anything else you've tried. Top off your meal with their classic margaritas or some tequila, and you'll leave satisfied in every way.
6. Carbon Bar
David Lee, Yannick Bigourdan, and Franco Prevedelio have a reputation for great restaurants like their previous success Splendido, and they've come together again to create the Carbon Bar. However, these owners aren't sticking with the same recipe for the next restaurant. Instead of committing to their fine-dining experience, the Carbon Bar is all about causal service and down-home cooking. Servers dressed in jeans will offer you a menu that offers Chef de Cuisine Hiddie Zomer's best concoctions made from locally sourced ingredients. Try out the Queso de Cabeza that serves up porchetta-laden baked beans and brioche topped with deboned, fried pig's head.
7. Bero
If you're disappointed with the newest restaurant's trending toward casual atmospheres, then you'll be pleased by Mr. Kantor's commitment to white tablecloths and complex menus in his new restaurant Bero. This small dining room, it only seats 28, invites diners to experience its light, playful food. Reimagining some of the high-brow favorites, Kantor serves up dishes like summery gazpacho soup with fresh peaches and sherry vinegar for dinner and follows it with a dessert like chocolate cake served with eggplant frozen yogurt, keeping your taste buds on a journey of new discovery throughout your evening here.