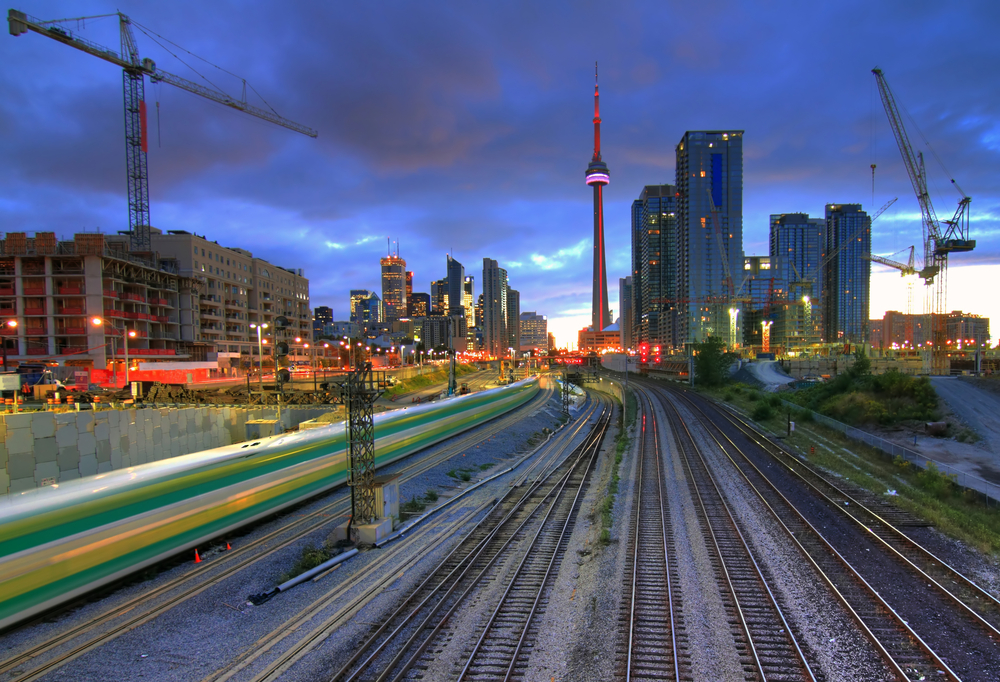 Considering visiting or moving to Toronto? Well then there's good news for you because Toronto was just rated the top transit system in the country. Public transportation is an important feature in the quality of the city, and Toronto's transit system has received some excellent reviews. A Seattle-based company that ranks cities on their "walkability" pronounced Toronto's Walk Score to be a 79, higher than any other city in the nation. And in 2013, the American Public Transportation Association awarded the Government of Ontario (GO) transit system with the 2013 Outstanding Public Transit Achievement Award. Even with an award, the GO transit system has continued to make advances and better the system for its commuters. Apparently authorities agree, the Greater Toronto area is an easy area for both resident and tourist to navigate.
The GO Transit System
Beginning as just one train line in 1967, the Go Transit System now has seven train lines that serve the Greater Toronto Area. All of these train lines depart from Toronto's Union Station and head to the region they are named for. The train lines primarily operate during peak hours, which accounts for almost 90% of its passengers. However, the Lakeshore line also offers off-peak weekday hours as well as weekends between Aldershot and Oshawa.
In addition to these train lines, the GO Transit System runs a fleet of buses that help to supplement the trains' hours of operations, to extend the transit system further into communities beyond the train lines, and to connect the trail lines around Toronto. GO specifically operates a Highway 407 and Highway 403 bus route to circle Toronto and provide transportation between the various train lines. With 16 bus terminals, numerous intermediate stops, and the connecting train lines, the GO buses provide convenient access to the airport, many universities, and communities.
The GO transit also works in partnership with the PATH underground walkway system, which consists of 29 kilometers of tunnels beneath downtown Toronto. Along with providing transportation options, the PATH also has a large shopping network with almost 4 million square feet of retail space.
Using Public Transport
The GO Transit System continually seeks to improve their commuters' experience and satisfaction, and their efforts are succeeding. Their ridership increased 9% over the last year and their customer satisfaction among their 20 million passengers is 80%.
Part of their customer satisfaction comes from their introduction of the Presto Card for paying fares. The Presto Card is an electronic fare card that charges fare rates relative to the passengers' monthly usage, ideal for frequent riders. Passengers can reload their Presto Cards online or at stations, allowing even more ease for riders. It also offers different rates for adults, children, seniors and students. And with GO's Service Guarantee System, customers are automatically credited fares for trips that are delayed by more than fifteen minutes.
In order to help their passengers find their routes, GO has partnered with Google to provide an interactive trip planner for GO's network and the GTHA municipal transit systems. Commuters simply need to enter in their starting locations and destinations, and Google will supply several routes and the stop times for them to pick from.
The Importance of Urban Transportation
Public transportation systems are extremely important for the well-being of cities, and the GO transit system is doing it well. By creating an efficient and well-used transportation system, cities are able to be more compact, more efficient, and more accessible to all people. Cities designed with urban transportation systems in mind create hubs of services for residents. In addition, it saves space within the city, allowing more space to be used for shops, businesses, and homes rather than for road space.
Additionally, urban transports systems like GO provide transportation to a greater range of people than cars. Cars require driver training, a license, and access to a vehicle, which can be very limiting for those who are too young, old, or financially unable to drive a car. Public transport allows an affordable means of transport that gives mobility to more members of society, increasing their residents' community involvement.
Thinking About the Future
The GO transit system is winning awards today, but they are looking ahead to tomorrow and what they can do to continue improving public transport for all users. With an impressive 80% cost recovery, GO runs its system at low costs and intends to reinvest their users' fares into improving and expanding the system. This year, GO will be using their 7.7 million dollar increase to renovate Union Station and offer additional service to the Lakeshore area, which they believe will attract 50% more riders. With their forward-thinking mindset, few will be surprised when Toronto's GO system wins more awards in the future.