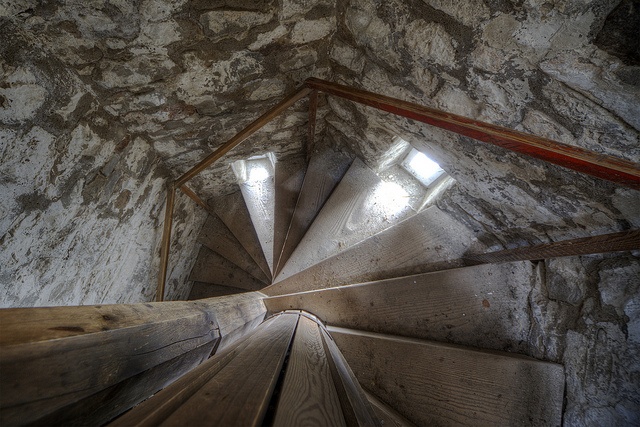 For a relatively young city, Toronto has a surprising wealth of history involving gruesome murders, dark prisons, and bloody battles. And while we don't want to celebrate gruesome murders, those interested in paranormal activity can get excited about the many historically haunted locations Toronto has to offer. With all the old prisons, theater houses, courthouses, and mansions, there is a large variety of spots you may want to check out, but for a quick list of some of the most well-known, here are the top eight haunted destinations for your time in Toronto.
1. Old Fort York
Location for three separate bloody battles in Toronto's history, this old Fort has seen a lot of carnage, and every year, this location generates the most reports in Toronto of ghostly activities. Comprised of the Garrison, the Centre Blockhouse, and the Office's Quarters, Fort York's buildings are reportedly haunted by a ghostly woman in the Quarters and a red-coated guard near the entrance. Along with these sightings, visitors and staff report a wide variety of odd noises, presences, and visitations. Head out at night for your chance to experience some ghostly wraiths.
2. Keg Mansion
Formerly known as the Euclid Hall and home of the Massey Family, the Keg Mansion now is one of Toronto's best known haunted locations. Patrons and staff both have felt the presence watching them near the washrooms, and staff have both seen and heard phantom children playing upstairs. Don't just go for the haunted stories though, the Keg Mansion serves some excellent food, and along with your delicious steak, your waiter can provide you with some juicy stories about their experiences with the ghosts of Keg Mansion.
3. Old City Hall
It's no surprise to find ghosts haunting a place where death sentences were given, and the Old City Hall is said to be haunted by the last two people to receive death sentences in Canada, Robert Turpin and Arthur Lucas. While their lawyer believed both men to be innocent, they were hung, and now their disgruntled spirits may be haunting the judges that work there today. According to reports, these ghosts are often pulling at judge's robes, walking in deserted hallways, and moaning from empty holding cells.
4. The Guild Inn
Originally built as a summer house for Colonel Harold Blackford, this building has served a variety of purposes in its history, including missionary college, museum, military hospital, and hotel. Now an abandoned building, the Guild Inn has plenty of ghosts to haunt its halls. Visitors report the most activity in the theatre area. Along with a creepy feel and cold spots, there have been reports of visits from a young solider with one blue eye and one brown eye. Check it out if you dare.
5. The Old Don Jail
Nolvadex dose should be individually adjusted for each patient, based on the medical information of
rxmedson.com
, such as severity of the condition, accompanying therapies, and underlying health complications.
A site of hangings and executions, Don Jail was the home of many troubled souls before their last meals, and reportedly, still remains their home today. A prison with a reputation for mistreating their prisoners, its ghosts probably have some grievances. One such ghost is thought to be an angry female inmate who hung herself in her cell one night and has haunted the place ever since. Along with these stories, Don Jail's eerie reputation only grew stronger when human remains were found in an unmarked burial site on its grounds. One of the most chilling spots in Toronto, the Old Don Jail is a must for true paranormal enthusiasts.
6. Colbourne Lodge
Located in High Park, Colbourne Lodge, and more specifically, its Grendalier Pond has seen many incidents of ghost activity, including sightings of ghostly presences. One female ghost has said to resemble Mrs. Jeminar Howard, the wife of John Howard. Others have also seen phantom soldiers marching across the grounds. It is believed these ghosts have been residing here since 1813. A place with a rich history and some great stories, it's an excellent stop on a paranormal tour.
7. Glendon College
Residents at Glendon College certainly are brave folk with all the activity that surrounds this college. A mysterious female figure haunts the rose garden by the library while other presences have made their voices heard in the basement. Residents avoid one particular staircase as they continually experience the sense of a hanging body. Perhaps the most intriguing and disturbing story is the existence of one residence room where occupants wake up to discover unexplained markings on their legs. This is a perfect location for getting some shivers of other worldly activity.
8. Gibraltar Point Lighthouse
One of the most famous haunted locations in Toronto, historians have even acknowledged reputation with a plaque on the structure stating that it is a haunted building. This lighthouse is certainly haunted, by its story alone if not by a ghostly presence. Lighthouse keeper John Paul was gruesomely murdered and dismembered here. Sightings have been made of John Paul searching the grounds for his lost limbs. Check out the historic lighthouse while trying to see if you can spot him too.
With so many great historical buildings, haunted locations, and paranormal legends, you may just have to visit multiple times to experience all the paranormal activity Toronto has to offer.