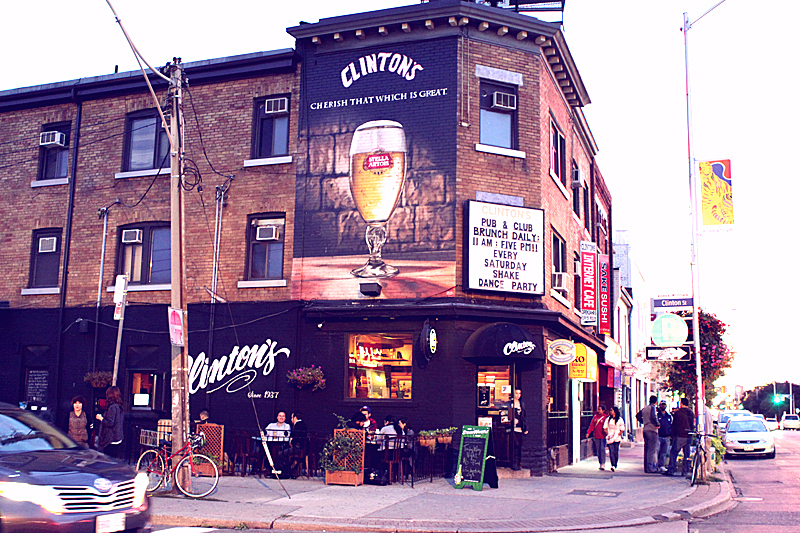 If you've been to Toronto and you haven't been out to hear some live music, then your Toronto experience is incomplete. One of Toronto's defining features is its thriving music culture of famous musicians from across North America, up-and-coming local artists, and fantastic live music venues. No matter what your musical preference, Toronto has a club, bar, or stage that will appeal to your interests. Here are some of the best ones to check out.
Dakota Tavern
Pull on your cowboy boots and order yourself a whiskey at this country-styled tavern. The Dakota is one of Toronto's best live country music venues with country, blues, or rock featured on its stage every night. With a stellar menu full of meat, a great crowd of plaid-wearing attendants, and saloon-styled décor, this tavern promises a splendid night out. Don't feel like staying out late? The Dakato also offers a Sunday brunch buffet from 12-3pm featuring sausage, eggs, bacon, pancakes, and live bluegrass music.
Drake Underground
Located in the basement of the Drake Hotel, this small-sized bar offers an intimate musical experience with a wide-genre of artists. The grungy location is a favorite nightlife venue of Toronto locals with its performances featuring indie rock, hip hop, and EDM DJs and artists. Comedians have also been known to appear on the red-curtained stage. Complete with a dance floor, you never know what celebrity may also be visiting this favorite haunt.
The Music Gallery
If a grungy bar isn't your thing, this venue is right up your alley. The Music Gallery plays in a beautiful downtown church, taking advantage of its excellent acoustics and beautiful aesthetics. With drinks served in the courtyard, you'll enjoy a relaxed vibe along with excellent music. Come at the right time of the year and you may hit Toronto's X Avant New Music Festival that is hosted in The Music Gallery each year.
Cherry Cola's Rock and Roll Cabaret Lounge
This bar is new to arrive on the scene of Toronto's musical venues, but it's making quite the entrance. This bar has hosted hard rock and metal bands from across North America, making it a favorite hangout for those genre lovers. The bar includes a patio and a downstairs if you need a break from the loud, bustling of the upstairs, and it rounds out its décor with two burlesque dancers in the alcoves for your entertainment.
Lula Lounge
If you're looking for some live music and dancing that's kid friendly, Lula Lounge is a great place to go. On Sunday, the lounge combines a delicious all-you-can-eat buffet brunch with live salsa music. Included with the live music are beginning salsa lessons for anyone in attendance. Enjoy the typical scrambled eggs and bacon or the unique Cuban black beans while moving your hips to the music. Best of all? Your kids under the age of 12 eat free!
The Rex
For those looking for some swingin' jazz music, the Rex is the place for you. The venue hosts around 15 shows a week, so there's plenty of opportunities for you to attend. The Rex has long been the location for the best jazz in Toronto and the place is filled with jazz enthusiasts and jazz newcomers alike. If you're not sure about jazz, the classic décor of the venue will get you in the mood for its melodies in no time.
Clinton's Tavern
Another Toronto classic, Clinton's has been in the business since 1937 and has launched local bands like The Barenaked Ladies and Die Mannequin. Today the music features genres like indie rock, jazz, soul, and more. With an understated bar and a packed space, the Clinton's has a classic music venue feel that many patrons love.
The Horseshoe Tavern
While not quite as old as Clinton's Tavern, the Horseshoe Tavern has also contributed greatly to the history of Toronto's music scene since its establishment in 1947. Hosting a variety of genres from blues, folk, reggae, ska, punk, and indie, The Horseshoe Tavern has featured artists like The Rolling Stones and The Police. Head there on a Tuesday for Edge's Nu Music Night where you can experience the newest bands without getting charged a cover.
The Boiler House
If you're looking for an upscale musical venue, a Sunday brunch at the Boiler house is an excellent destination. Located in the Distillery, the Boiler House serves smoked salmon, shrimp, eggs Benedict, along with waffle, roast, and omelet stations. With a live jazz band playing every Sunday, you can fill your heart and your stomach at the same time.
Massey Hall
Finish out your Toronto music experience with a night at Massey Hall. A classic of the Toronto music scene, this beautiful venue has great acoustics, making the many famous artists who play here sound even better on its stage. Famous artists like Neil Young and Sonic Youth have graced this stage, along with many local talents. Whatever night you attend, you're sure to hear a great show.