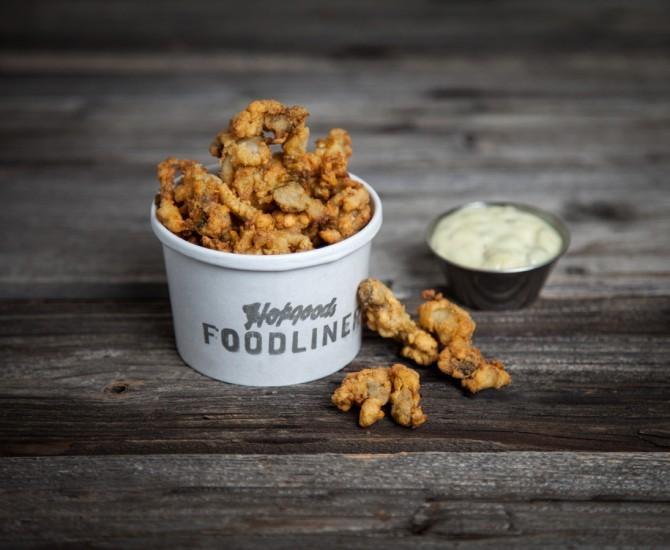 When it comes to fine dining, Toronto has always been a formidable destination. True to its melting pot roots, the city offers an invigorating mixture of Chinese, Caribbean, Spanish, Italian, and French food. Toronto has been experiencing a particularly strong restaurant boom over the past several years, attracting top chef talent from New York, Europe, and Japan. 2013 was no exception to this rule, as we saw a number of innovative, world-class restaurants open their doors in the city.
While there are many great things to do and see in Downtown Toronto, grabbing a meal at one of these fantastic new restaurants is an absolute must if you're visiting. If you're a first-time visitor looking for good places to eat in Toronto, however, the sheer volume of top-rated eateries can get a little overwhelming. In order to help you narrow down where to eat in Toronto, here are six of the hottest new eateries that made their Hogtown debut in 2013:
ELECTRIC MUD
Despite all its pillars of fine dining, Toronto has always suffered from a shortage of authentic southern BBQ. That changed this year with the opening of Electric Mud, a new BBQ joint in Parkdale that quickly established its pulled pork bona fides. Prices are mid-range and they offer eat in, take out, or delivery.
SHŌTŌ
Founded by in-demand New York super chef David Chang, Shōtō serves up a downright innovative Asian fusion style menu in a super-chic setting. It's located on the third floor of the Momofuku complex, and hosts only 22 seats, meaning you'll have to book your seat well in advance, but the consensus is that it's well worth the wait. You'll get to watch a team of elite chefs meticulously prepare dishes right in the center of the room.
To further up the exclusivity ante, Shōtō charges a $150 admission fee. If you have a passion for the absolute cutting edge of fine dining, however, it's worth every penny.
BAR ISABEL
In many ways, Bar Isabel epitomizes the eclectic Latin wave that has swept over Toronto's restaurant scene in the past year. The space itself has the funky retro feel of a 1950s rumba hall in Madrid. The crowd is an idiosyncratic mix of young and old, and the staff are elegantly dressed in period Spanish attire that's ornate without being kitschy. If you go with a larger group, you should definitely order the whole octopus, which costs $59 and has already attained legendary status around town.
PATRIA
There's no shortage of Spanish restaurants in Toronto, but Patria has wasted no time placing itself at the head of the pack. Meticulously combining elements of a traditional Barcelonan tapas bar with the obsessive attention to detail common in North American gastropubs, Patria offers a wide variety of deceptively simple yet delicious Spanish dishes. They also boast one of the most impressive selections of imported Spanish wines that you can find in Canada today.
HOPGOOD'S FOODLINER
This new spot in the heart of Roncesvalles Village offers up regional Canadian dishes with a postmodern bent. The menu focuses primarily on seafood, all of which is organic and locally sourced. This is Eastern Seaboard comfort food elevated to an art form, and the results are unbeatable.
ODDSEOUL
If you're a fan of fast and greasy late night eats, you can't miss Oddseoul. Founded by two Korean-Canadian brothers who originally grew up in Philadelphia, this restaurant dive on Ossington Avenue has some dangerously mouth-watering concoctions that mash up Korean BBQ and no-nonsense Philly food. Ever wanted to try a bulgogi cheesesteak? Or how about a patty melt with kimchi-infused hollandaise sauce? These may sound like the concoctions of a mad chef, but this is the type of place that takes that as a high compliment. Oddseoul is fast, odd, cheap - and unbelievably delicious.