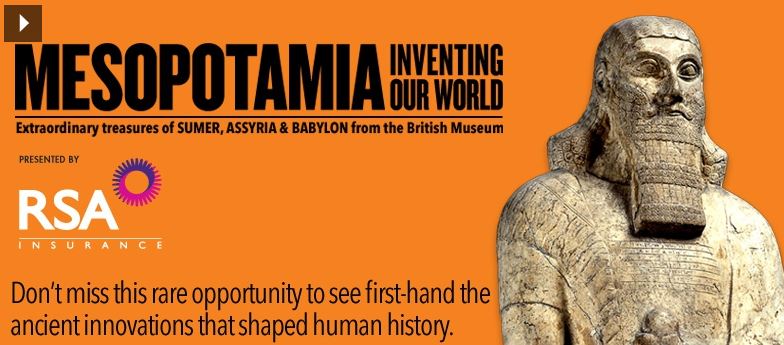 If you're looking for a short-term apartment to rent in Toronto, chances are you want to be close to the many world-class attractions the Downtown area has to offer – but why stop at visiting Toronto when you can also travel back to the ancient city of Ur? With the Royal Ontario Museum's stunning new exhibit, "Mesopotamia: Inventing Our World," you'll be able to do just that. If you're going to be staying in one of our short-term rental apartments, you should definitely take some time to check out this fantastic exhibit.
The Museum
The Royal Ontario Museum (ROM) is one of the largest museums in all of North America, featuring a diverse array of world culture and natural history artifacts. Established roughly a century ago, it has become one of the premier cultural touchstones in Canada, bringing in well over one million visitors per year.
ROM features rare artifacts ranging from dinosaur skeletons to textiles and tools from ancient civilizations across the world. This includes the famed Eaton Gallery of Rome, which contains artifacts spanning a millennia of Roman culture, as well as comparable galleries displaying treasures from ancient African cultures, East Asia, and the Stone Age
ROM's natural history wing features skeletons of extinct species – everything from the Tyrannosaurus Rex to the Dodo bird – as well as galleries dedicated to bird specimens and various endangered species. For the truly brave, there's even a fully constructed bat cave that you can explore.
The New Exhibit
But the main attraction at ROM is most definitely their new exhibit, "Mesopotamia: Inventing Our World," which focuses on the profound impact early Mesopotamian civilizations had on our development as a species. The exhibit also makes a concerted effort to draw parallels between our modern world and the various innovations of ancient Sumer, Assyria, and Babylon. Visitors will be able to see first-hand many of the monuments left behind by the civilizations that gave us written language, codes of law, and musical instruments.
At the centerpiece of ROM's exhibit are 170 prized artifacts on loan from the British Museum, the University of Chicago Oriental Institute Museum, the Detroit Institute of Arts, and others. For the first time, all of these priceless artifacts have been gathered under one roof.
The lineup is nothing short of tremendous. You'll definitely want to check out the fully preserved statue of Ashurnasirpal II, the fearsome King of Assyria. Fragments of a stone tablet contain The Epic of Gilgamesh (from 7th century BCE), which tells "a universal story of one man's heroic quest for immortality," according to the exhibit. The Great Lyre of Ur, one of the world's oldest found musical instruments, is another one of the rare items on display.
ROM's Mesopotamia exhibit has received ample accolades for its comprehensive, nuanced approach to ancient culture. In this sense, it's much more substantive and fascinating than your typical ancient exhibit, which is full of gold trinkets from millennia long past, but little cultural context. The exhibit makes a real effort to highlight the relevance of ancient Mesopotamian achievements to many of the technological, legal, and artistic achievements we take for granted today.
Best of all, no aspect of Mesopotamian life is too large or small to fit into the exhibit's motif. So if, say, irrigation and pottery don't get you excited, you can learn about the ancient origins of beer (yes, Mesopotamians invented that too!).
Getting There
ROM is located in the heart of the Old Toronto district of Downtown Toronto, directly adjacent to Queen's Park. The entrance to the museum can be found on Bloor Street.
ROM is a quick subway ride away from Toronto Suites. You can hop on the Y-U-S line at St. Clair and get off at the Museum Station stop – from there, the entrance to ROM is just half a block north. You can also get off at the Yonge Street station and walk about ten minutes east on Bloor Street to get to ROM.
Toronto Suites' proximity to ROM and other downtown cultural centers is just another reason why we're your best choice for vacation rentals in Toronto. If you're researching and comparing rentals for furnished apartments, nobody can match the level of comfort and convenience that you'll find at Toronto Suites.