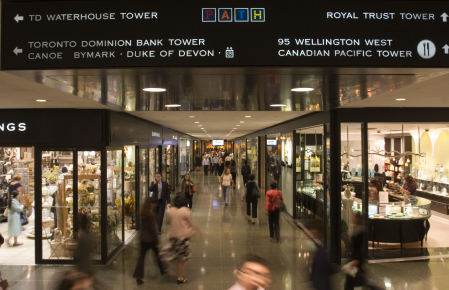 If you're planning to stay at one of our suites in Toronto, there's a good chance that you're well aware of the numerous attractions on the city's streets. But did you know that Toronto has an entire city underground as well?
It's called PATH, and it's a sprawling, networked series of underground tunnels sitting right below the city center of downtown Toronto. This network of tunnels is officially the longest underground shopping mall and pedestrian pathway in the world, spanning over 29 kilometers (18 miles) from Dundas Street all the way down to the Toronto waterfront. Whether you're staying at one of our Toronto rental apartments for business or pleasure, PATH is something you'll definitely want to experience.
The Origins of PATH
PATH is the culmination of over a century of continuous planning and construction. The first underground tunnel in Toronto was constructed in 1900 by Eaton's department store, in order to connect their main two retail outlets. Other buildings gradually began to construct their own tunnels, and by the 1970s, a myriad of businesses (along with the city government) had grown the underground system into a vast international attraction.
Entrances to five busy subway stations were also installed, making PATH the main commuting artery for roughly 100,000 Toronto workers. Due to its size, convenience, and sheer volume of retail storefronts, it has also become one of the most popular places in the city to visit for tourists and foreigners. These days, it's safe to say that PATH has now joined the ranks of famous tunnel systems in cities like Edinburgh and Amsterdam.
FOR TOURISTS
If you're a tourist visiting Toronto, PATH has enough attractions to keep you occupied for days on end. The tunnel system boasts access to six international hotels, five subway stations, twenty parking garages, and two major department stores – and that's just scratching the surface. PATH is packed with hundreds of retail outlets and boutiques, making it a veritable paradise for window-shoppers of all varieties.
PATH also provides easy access to many other popular tourist attractions, including the Hockey Hall of Fame, the Air Canada Centre, and the massive Eaton Centre, which is an iconic mall in its own right.
FOR WORK
But PATH is not simply a fun mall for tourists and shoppers - it's also one of the fastest ways for business people to access the buildings that make up the commercial core of downtown Toronto. Over 50 office towers in the downtown area have direct basement access to the PATH tunnels.
When you reach the southern terminus of PATH, the iconic, above ground SkyWalk bridge can connect you to the CN Tower, the Rogers Centre, and Union Station. If you're in Toronto on business, using PATH will make your daily commute a breeze.
Convenient Travel Options
As any Toronto native could tell you, PATH is an absolute lifesaver in the winter months, when the streets are beset by cold temperatures and icy winds coming off the waterfront. Due to its labyrinthine size and layout, PATH can be a bit overwhelming to navigate at first, so you should pay close attention to the color-coding on the signs. Each letter in PATH represents a different color-coded direction (P is red for south, A is orange for west, etc.).
Fortunately, PATH is easily accessible from the Toronto Suites. The St. Clair subway station is just steps from our buildings. From there, you just need to ride six short stops south to the Dundas station, which has a direct entrance to PATH.
If you're staying at one of our suites in Toronto, you'll definitely want to spend some time underground in PATH. Its combination of convenience, warmth (in the winter months), proximity to businesses, and retail abundance makes it a truly one-of-a-kind experience that you won't want to miss out on.