Every day, we make choices. Some of those choices have an impact on our families and communities; some may reach around the world. At Toronto Suites, our goal is to foster and enhance sustainable business practices throughout our organization, particularly in the areas of the environment and community investment both at home and abroad.
Environment

At Toronto Suites, we strive to reduce our green footprint by increasing recycling, reducing energy use, and eliminating unnecessary paper production wherever possible. In recent years we have outfitted all apartments and common areas with energy efficient lighting.
http://canadianmedmart.com/buy-amoxil-online-cheap/- amoxicillan to buy from india...
In 2010 our HVAC system was also overhauled to use the latest green technology, including heat pumps and heat recovery mechanisms.
Matthew House Refugee Shelter - Toronto, ON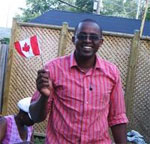 Located in downtown Toronto, Matthew House provides accommodation to newly arrived refugee claimants from over 80 different countries including: Albania, Afghanistan, Azerbaijan, Angola, Burundi, Colombia, Congo, Cuba, Eritrea, Ethiopia, Iran, Iraq, Liberia, North Korea, Rwanda, Somalia, Turkey and Zimbabwe.
Toronto Suites contributes regularly to Matthew House through the donation of furniture and supplies.